Skip Navigation
Website Accessibility
In-Shop Special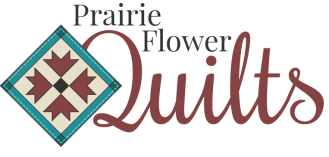 102 South Indian Road
www.prairieflowerquilts.com
In-Shop Specials

Prairie Flower Quilt Co. will be having an In-Shop Special during the
Prairie Stars Quilt Shop Hop. Special will
include 20% off items and MORE (see marked items in-store). Be sure to stop in even if not on shop hop to take advantage of our SALE!


---
13th
An
nual Prairie Stars Quilt Shop Hop
March 31 - Apr
il 8, 2017
Bright colors of batik fabric in 2 1/2 inch strips are the springboard for our 2017 Shop Hop project. After purchasing a starter kit at each of the seven (7) participating shops, see below, you will have a complete jellyroll. All you need to do then, is choose your favorite finishing kit from a participating shop and you are ready to SEW!
1. Cheryl's Quilt Corner, Guymon, OK
2. Country Quilting by Design, Plains, KS
3. Justa Stitchin', Springfield, CO
4. Pam's Variety, Boise City, OK
5. Prairie Flower Quilt Co., Leoti, KS
6. Quilter's Stash, Syracuse, KS
7. Sunflower Creations, Copeland, KS
This year's grand prize is a Rachel Baby Lock Sewing Machine with case, arm extension, walking foot, 12 extra bobbins, cutting mat and a Splash rotary cutter. Grand prize valued at $974. B

e sure to pick up your passport booklet at your first shop visited! Please note that passports must be stamped by all participating shops. Incomplete passports are not eligible for prize drawings.
If

you ha
ve questions contact a participating shop for more information or visit

http://www.prairiestarsquiltshophop.com.
---
New Fabric
If you're looking for the latest quilt patterns and fabrics, you'll find them here! At Prairie Flower Quilt Co., the most recent designer fabric and patterns will be featured via email, so you'll always know when we have something new in stock. You'll find a vibrant selection of unique sewing patterns and fabric that'll help jump-start your creativity.

Check out the new fabric lines below.



Monster Trucks
RJR




RJR




Sugar Pie







Follow the Sun




Wilmington Prints


Follow the Sun
Kits Available