Upcoming Block of the Months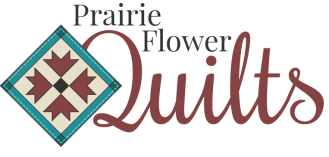 102 South Indian Road
www.prairieflowerquilts.com
Bow Diddley Block of the Month


Starting Saturday, February 4, 2017




REMINDER: Bow Diddley is a 12 month Block of the Month program beginning February 4, 2017. You have 3 colorways to choose from, Light Blue: 30s fabric, Brown: Kansas Troubles fabric, or Black Flower Colorway fabric. This BOM costs $5/BOM plus shipping.

Your finished quilt will measure 92" x 92"

. Call

620.375.2044

or stop in for more details or to sign up.
---

Jingle for Your January
REMINDER: TODAY IS THE LAST DAY, you can redeem your envelopes. The envelopes must be OPENED IN-STORE and will include a FREE ITEM and a ticket for a DISCOUNT to be used THAT DAY.


---
Waddington Road Sampler Block of the Month
February 13, 2016
The Waddington Road Sampler is an 8 month program, starting on February 13th, 2017. This gorgeous BOM uses the Waddington Road line by Barbara Eikmeier for Paintbrush Studios.The finished quilt measures 90" x 90."
This quilt involves machine piecing with basic construction. Suitable for Intermediate Level quilters.
Each month you will receive the pattern and fabrics to complete your blocks. The program costs $25.00/month. Call

620.375.2044

or stop in for more details.





---

Mark Your Calendar
1. February 17-18 - Scott City Quilt Guild
2. February 24-25 - Prairie Flower Quilt Co. Anniversary Celebration